Go back
WELCOME TO GAZTELUR BY MDLR
Welcome!
We're thrilled to introduce Gaztelur by MDLR.
Founded by Marta de la Rica, this project relies on a beautiful story between Marta and her father. Their mutual passion for antiques, decoration and what French call "Art de Vivre" results in this new site: Gaztelur by Marta de la Rica. A unique online store with special pieces that Marta and her father find in the most unexpected places during their travels around the world.
Gaztelur, which means "The house above water" in Basque, is an old mansion located in the village of Arcangues, 5 minutes from Biarritz, surrounded by generous nature with its fields and mountains. The objects collected over the time by Javier de la Rica, give each room of the mansion a character, a mix of vintage and modern furniture, between the baroque and the unusual, a journey between past and present.
We know shopping for the home can get overwhelming. Choices abound, and it can be difficult to pinpoint your own style. If  you're looking to outfit your home without a designer (or  even have  a designer but are on the hunt for expert-approved gifts or accesories), why not enlist the help of a profesional in a different way? We offer you exactly that. By shopping here, you'll find a curated selection of products chosen by Marta and Javier. We offer everything from vintage furniture to small giftables; all the pieces speak to Marta´s career roots and personal life, as well as her style. Combining the past and the future is her specialty: each piece is unique and holds a very special story.
Plus - if you don't know a thing about decoration or just want some inspiration, you're in luck! In this space you will also find design & lifestyle tips, helpful how-tos and behind-the-scene peeks at our latest pieces. We hope this will become a reliable and relatable source of style and inspiration for you. We can't wait to deliver the very best!
Welcome to our happy place. We think you'll love it here and we hope you enjoy your stay and enjoy the conversation!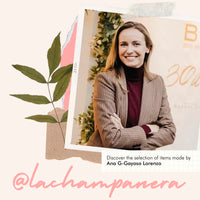 Most popular
Go back