Go back
WEDDING GIFTING MADE EASY
We can all agree that finding the perfect wedding gift is no easy task, especially since each couple has differences in preferences.  If you want to steer away from the traditional wedding registry and find unique wedding gift ideas, you've come to the right place!
To make it easier for you, we have rounded up a list of wedding gift ideas from our store that you can buy now. Each one of these hand-selected ítems will please any couple and will certainly stand out.
Take a look:
Silver plated metal Champagne cooler:

No one wants the party to end! With this gift, they'll continue the celebration and make their first toast as husband and wife at their new home using this amazing vintage piece. Cheers!
Chest of drawers: If you're hoping to gift the newly married couple a gift that will stand the test of time, this is the right gift for you. This vintage piece of furniture is from XVIII century and was made in France, of course!
Pair of Italian candlesticks: To literally light up their rooms, how about these XVII century candlesticks? Details like this will completely change they way a space looks and will give it a unique and vintage touch.
Pair of Midcentury upholstered chairs: Not only are they extremely comfortable, but they'll also add a splash of color to their home. If you want to continue with this blue color palette idea, you can also combine them with our Blue Murano Ashtray and create the perfect match!
Mirror: Every home needs a beautiful mirror; for the entrance, the rooms, the living room… And even for the kitchen! Mirrors make spaces look bigger and lighter. The wooden frame of this mirror gives it a very peculiar touch.
If you have any further questions, please contact us and we'll help you decide. Also, each piece is unique and if you want to be sure that its available, please reserve in or buy it in advance. Happy shopping!
[Flores: Mar López / Fotos: Carlos Martínez / Organización, papelería y decoración: Olivier Granet]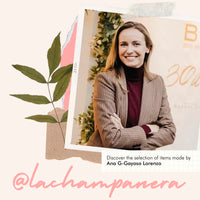 Most popular
Go back