Go back
"This concept doesn't depend on the quality of the pieces, the space or the furniture. It depends on the feeling that those pieces provide and in the joy the bring to those who use it. That luxury can be obtained in a tree house or in a hotel suite. The achievement of that feeling is what matters to me most." This is how Marta de la Rica, our founder, describes her career.
Her enthusiasm for design and antiques is something that has accompanied her since birth: her father Javier is a great admirer and collector of antiques and has been a great influence on Marta all her life. When she was little, he used to take her to fairs and stores and showed her decoration magazines. Little by little, she developed a passion that latter became her profession.
When she finished her studies as an Interior Designer, she founded her own studio. She began a journey in which she has not only discovered unique pieces around the world, but she has also had the opportunity to develop many different projects, among which her own home stands out.
Her projects represent a fusion between the old and the new; as she strives to understand each client and the way the like to live. She's highly creative, has an artistic ability and uses her sense of style to develop projects that look great but also showcase the personality of each client and have a soul of their own. Over the years, she has designed homes, restaurants, country houses, studios, offices etc all over the world: from Madrid to Sotogrande, to Brooklyn, Ibiza or Biarritz.
Selling furniture is a natural addition to her portfolio. For this project, she curates a beautiful collection of furniture and in doing so, she combines her passion for antiques and furniture into her interior design practice.
Marta spends her days working in her studio, visiting constructions and suppliers and meeting with her clients. She loves spending time at her studio; surrounded by prints, drawings and samples. When she's not working, she loves spending time with her lovely daughters or travelling around the world seeking for inspiration in art, culture and experiences.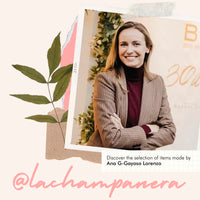 Most popular
Go back