Go back
Biarritz is a french city known for its sandy beaches and Basque culture. It has been elected as one of the top 10 European summer destinations, so it should definitely be in your radar! It has been a source of inspiration for our founder Marta de la Rica and it holds a very special place in her heart.
If you find yourself heading to the south west of France, here's some things to do, see and eat while you're there!
VISIT THE GRANDE PLAGE – The Grande Plage is the main beach in Biarritz, located right next to the downtown centre ville. It's a sprawling beach filled with the colorful, striped tents that Biarritz is known for. Grab a snack and some beverages, and head to this classic Biarritz beach for a day in the sun!
SEE THE ROCHER DE LA VIERGE – One of the most famous attractions in Biarritz is Rocher de la Vierge, a rock formation which juts out into the Bay of Biscay via a metal footbridge. The statue of the Virgin Mary was constructed in 1865, long after the rock was used as an anchor point for Napoléon III!
WALK AROUND ROCHER DU BASTA – Rocher du Basta is a small island next to the Grand Plage, accessible via a gorgeous bridge made of rock. Enjoy a terrific view of the ocean and Grande Plage from this lookout spot.
ENJOY VIEWS FROM LE PHARE – On the far side of the Grand Plage is Biarritz's famous lighthouse. What's most interesting about this spot is the incredible heights from which you can see the ocean, and city. It's about a 15 minute walk from Biarritz's city center, and certainly worth the trek for the magnificent natural surroundings!
LA CÔTE DES BASQUES – Watch the sun set from the open-air bar Les 100 Marches or climb down the "100 steps" to watch the surfers at the beach below, Cote des Basques.
BEACH PARADISE – Anglet, also known as "Little California", has 11 sandy beaches stretching 4,5km between Adour river and Biarritz Lighthouse. Is a sport paradise were life revolves around the sea, you can spend your day lying on the sand or go surfing, kite-surfing, bodyboarding, playing volleyball or even rugby!
DO A LITTLE ROAD TRIP – Sarre and Saint Étienne-de-Baïgorry are some of the villages near Biarritz you can visit for the day, just around an hour away you can enjoy of a totally different experience.
DISCOVER AN EXCEPTIONAL PANORAMIC VIEW  –  La Rhune railway is open every day, booking is recommended!  Get on the train the La Rhune and discover a 360-degree view across Atlantic Ocean and Pyrenees. We hope you are not afraid of heighs, this view deserves to take the risk!
FOR THE MOST SPORTY –  You can spend time surfing or playing golf at the oldest Continental Europe golf course, Le Golf du Phare.

RESTAURANTS –  Here you have some of Marta's all time favorites! Visit our family project Gaztelur we will be happy to welcome you. She also recommends: Cibo, Caroe, Saline, La Crique, Le Carlos, Bar Jean, Epoq, L'Auberge d´Achtal, Un jour a Peyrassole, Dodin, La Plancha and Le Madrid.
SHOPS AND BOUTIQUES –  As you already know  we  love unique and wonderful pieces, take a walk around this stores, you will be thrilled and find some Biarritz's  treasures. Boutique Duchatel, More and Less, Rythm, Arosteguy, Mille et un Fromage, Henriet, The Bookstore, A mano studio, Hoalen, and Open me.
If you have the opportunity of visit Biarritz we hope this little guide helps you to take advantage of all the city has to offer! Don't forget to share your experience with us!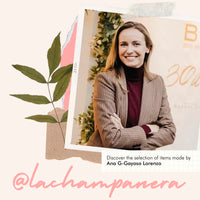 Most popular
Go back