Go back
We love to travel, meet, share... But now for our safety and those around us we must modify our routines a bit. It is the best time to show those close to you the incredible host you are, home meetings do not have to be boring or monotonous, it's enough to have a well selected decoration, a little of imagination and a lot of good taste to create a memorable evening.
We invite you to travel around the world from the comfort of your home with different cocktails, while we recommend some special pieces from our collection chosen by Marta, so you can surprise your guests with the best deco.
Let's start with Asia, our "Travel bar with Chinese paintings, from the beginning of the XXth century", is perfect to prepare a Soju watermelon punch from Korea, we leave you the recipe: 
Ingredients:
Makes 1 serving
1 cup watermelon

2 ounces plain or citrus-flavored soju

1 teaspoon lime juice

1 teaspoon simple syrup

Ice
Instructions:
1) Place watermelon in a blender and blend until liquid. Strain juice and chill for up to an hour.
2) When ready to serve, fill glass with ice. Add watermelon juice, lime juice, simple syrup, and soju. Stir well.
Let's move on to Europe, we have to admit that it was difficult to decide (we already know how much we like to have fun in here) we chose these cocktails that would look ideal in our "Brass and glass trolley" and our "Bamboo bar cabinet". Choose your favorite:
Orange Blossom Ouzo Cooler from Greece
Ingredients:
Makes 1 serving
2 slices pink grapefruit, peeled

2 golden honey teaspoons

1 ounce ouzo

2 ounces vodka

3 ounces grapefruit juice

2 teaspoons orange blossom water

Grapefruit slice for garnish (optional)
Instructions:
1) Muddle grapefruit slices and honey in a cup.
2) Fill with ice, and add ouzo, vodka, grapefruit juice, and orange blossom water. Stir gently and garnish if desired.
Olive Spritz from Italy Aperitif
Ingredients:
Makes 1 serving
2 ounces Prosecco

1 ounce citrus-flavored sparkling water

2 ounces bitter red liqueur (like Campari)

Splash of olive juice

Olives on a pick for garnish

Ice
Instructions:
1) Fill glass with ice cubes and add Prosecco, sparkling water, liqueur, and olive juice. Stir.
2) Garnish with olives.
Finally we go to the Caribbean! Tropical flavors, palm trees, exotic fruits, the sun tanning us in the sand... a dream! Summer is barely gone and we miss it already.
Coconut Lime Daiquiri from the Caribbean
Ingredients:
Makes 1 serving
2 ounces rum

3 ounces cream of coconut

2 ounces citrus soda

1 ounce lime juice

Maraschino cherry for garnish

Ice
Instructions:
1) Place all liquids in a blender on low. Add ice as needed to reach desired consistency.
2) Pour into a chilled glass and top with a cherry.
Green Guava Margarita from Mexico
Ingredients:
Makes 1 serving
1/3 large green guava
1/2 cucumber
3 teaspoons agave syrup
2 ounces freshly squeezed lime juice
2 ounces tequila
1 1/2 ounces orange liqueur
Crushed ice
Flaky sea salt for rim
Lime slice and cilantro sprig for garnish
Instructions:
1) Juice the guava and the cucumber. (If you don't have a juicer, blend and strain through fine mesh.) This should yield about 3 ounces of juice.
2) Salt the rim of each glass and fill with crushed ice.
3) In a cocktail shaker with ice, combine juices, agave syrup, orange liqueur, and tequila. Shake for 30 seconds, then pour over ice.
4) Garnish with lime slice and cilantro sprig.
The perfect companions for these tropical cocktails would be our "Metallic candy box in the shape of a pinneaple" and "Mirror bar cabinet", we have different options to accompany you in this fun event. We also recommend our "Limoge's beer set" or our "set of two bottles and six cristal handmade striped glasses" and our "Silver plated metal Champagne cooler" because the only things that are going to get cool are your drinks!
Visit our "cocktail collection" here.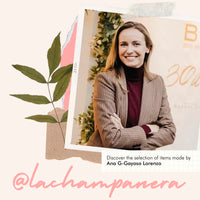 Most popular
Go back